For the past several decades, Baltimore's Inner Harbor has been a huge draw for visitors and residents alike. Harborplace was an amazingly popular shopping and dining destination in the 80s and into the 90s. Back then, the majority of the restaurants within the complex were locally-owned, if not by people from Baltimore, than at least people from the state of Maryland. Restaurants like Taverna Athena, Bamboo House, Paolo's, and of course Phillips Seafood packed in both tourists and locals. My family ate at Harborplace regularly, visiting Bamboo House for delicious Chinese cuisine at least once every two weeks. My best friend from high school adored Phillips, and I found myself waiting in line to get into the popular restaurant pretty frequently, especially in the warmer months. Paolo's was my personal favorite; while it wasn't a fancy place, the Washington DC mini-chain's Cal-Ital food–salad with raspberry vinaigrette, green olive tapenade, tortellini rose–seemed so sophisticated to my Baltimore palate. (DC's Georgetown location still exists. Though it's been modernized quite a bit, they still have my three favorites on the menu in some form.)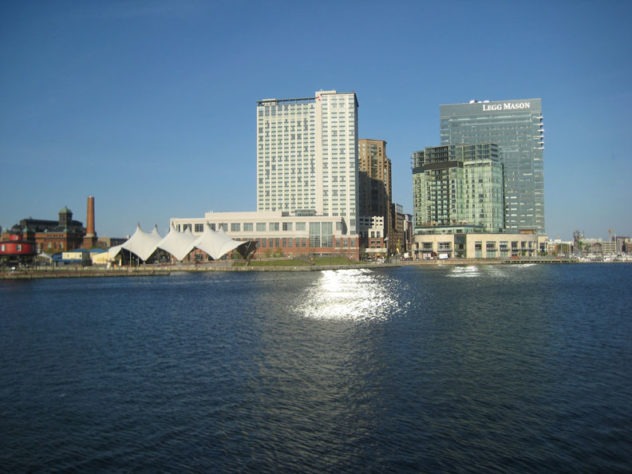 The 80s was the heyday of the shopping mall, and an annex to Harborplace called The Gallery opened across the street on the lower levels of a mixed-use high-rise building that includes a hotel and an office tower. The compact 4-story mall once had a small food court and a sit-down restaurant, but was always more of a straight-up shopping destination than the twin Harborplace pavilions. Today, the Gallery is much the same, although many of the shops have changed over the years and the food court has been reduced to a Starbucks. Harborplace, however, is quite different. Gone are the local restaurants; they've been replaced by The Cheesecake Factory, Uno Pizzeria and Grill, Hooters, and Bubba Gump Shrimp Company. That's great for folks who want something familiar when they go out to eat. You can't beat The Cheesecake Factory for sheer variety of choices, but while Uno's pizzas are tasty, they're Chicago-style, not Baltimore-style (not that there is a true Baltimore-style pizza, just sayin'). There's also a M&S Grill, a Five Guys, and a Tir Na Nog Irish Bar & Grill in the Pratt Street Pavilion, and a Noodles & Company in the Light Street Pavilion.
There are still more restaurants outside of the Harborplace complex. Baltimore recently got its first Shake Shack, located in 400 East Pratt Street. Brio Tuscan Grill is in 100 East Pratt Street, across from the Gallery. In addition to familiar Italian dishes like lasagna and chicken Milanese, they have a gluten-free menu and a Light Menu with calories listed for those folks who are counting. The building at 1 East Pratt Street has a Kona Grill for Hawaiian-ish choices and sushi, and a Sullivan's steakhouse for more serious carnivores.
If you're not looking for a chain restaurant, there are thankfully a couple of locally-owned joints within walking distance of Harborplace and the U.S.S. Constellation, of the National Aquarium and the Maryland Science Center. Nalley Fresh is in the same building as Shake Shack. Greg Nalley came to Maryland in the 90s to attend culinary school. After graduation, he worked in local restaurants before being diagnosed with cancer. After that cruel kick in the pants, Nalley realized YOLO and took the plunge in opening his own restaurants. The first Nalley Fresh, a fast-casual concept with customizable salads, bowls, and wraps, appeared in 2011. Now there are ten locations, all but two in the Baltimore City/County area. (Ok, so that makes it a chain, but one that's still firmly local.) Customers can make their Nalley Fresh bowls, etc. as healthy as they like, starting with a sweet potato or brown rice and topping it with goodies like herb-roasted salmon or black beans, kale, avocado, fresh veggies, and lime-vegetable broth. Or they can pile a baked potato with jerk beef, tortilla strips, wasabi peas, bacon, bleu cheese crumbles, ranch dressing, sour cream, and alfredo cheese sauce, skipping all the greens and other vegetables. Because some people just roll that way. I say yay for choices!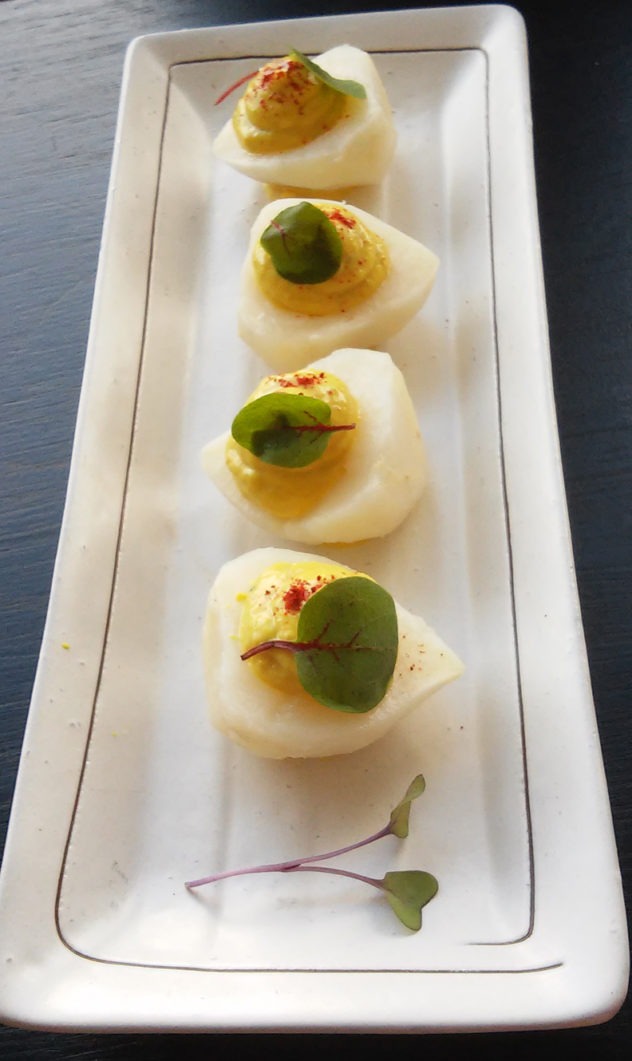 The Hyatt Regency Hotel, across from Harborplace's Light Street Pavilion, has Bistro 300. Being a hotel restaurant, they serve breakfast, lunch, and dinner, using thoughtfully sourced ingredients. Their eggs come from cage-free chickens, the bacon is naturally cured, and produce comes from local or regional farms. There are nods to Baltimore and Maryland on their menus (crab cakes, cream of crab soup, chicken Chesapeake, wild Rockfish), but the menus at Bistro 300 tend to have a more global influence (ahi tuna tacos, and char siu short ribs, for example).
A couple blocks south is the Royal Sonesta Harbor Court Hotel, which once upon a time held two highly-regarded restaurants and a posh safari-themed bar. The hotel has streamlined its food choices considerably over the years, with the still-posh Explorers acting as the main restaurant as well a bar serving rare cognacs and whiskies. The current menu includes items like crispy honey-glazed chicken wings, a crab and artichoke flatbread, and something not seen often these days, steak Diane. Crab cakes and crab soup too, of course.
The next restaurant is a bit of a hike, so you may want to stop at 3 Bean Coffee on Key Highway  on the way for a caffeinated pick-me-up. If you prefer something without the extra jolt, they serve kombucha on tap and milkshakes, too. There are also various savory and sweet nibbles from local purveyors like Dangerously Delicious Pies, Kinderhook Snacks, and Stone Mill Bakery.
Down where Key Highway discontinues being an East-West street and starts heading south there are two notable restaurants, each deserving their own Spotlight feature. The first of these is the Rusty Scupper, right on the water. The Rusty Scupper has been around since 1981, showing up on the scene not long after Harborplace. There were once multiple locations, but the 35-year-old Baltimore stalwart is now the only one. It has arguably the best views of any restaurant in Baltimore; from any window guests can see the true beauty of Baltimore's waterfront, including elements from its industrial past and high-end dining and residential present. The Rusty Scupper's menu is seafood-forward, featuring local favorites like crab cakes and crab soup, but also fresh fish (that can be Maryland-ized by the addition of a crab cake or sauteed lump crab), and a handful of beef and chicken dishes. More on the Rusty Scupper in the near future.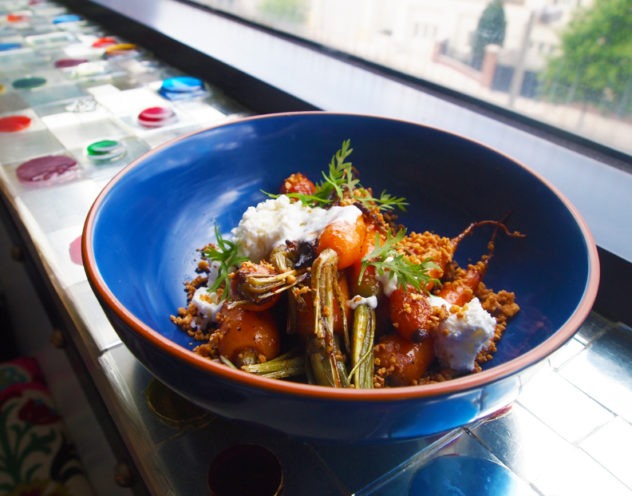 Across the way in the delightful American Visionary Arts Museum (AVAM) is Encantada. Though not a vegetarian restaurant per se, Encantada has a large selection of high-end vegetarian and vegan dishes, from an appetizer of faux deviled eggs made with tiny white turnips, to a cauliflower steak with carrot salad and confit potatoes, and a raw carrot cake with cashew frosting. There's even a vegan tofu benedict at brunch (but also steak and eggs and a crushed bacon toast with bleu cheese sauce, for fans of meat). We'll also look closer at Encantada in the coming weeks.
There is a smattering of other restaurants in the area that can be considered part of the Inner Harbor, though the rest don't have water views. Some are closer to Oriole Park at Camden Yards, which is just within the boundaries of the Inner Harbor. That's also another topic for a future post. Stay tuned!
---
Minxeats Baltimore food blogger and Co-author of the new book, Maryland's Chesapeake: How the Bay and its Bounty Shaped a Cuisine, plus Food Lovers' Guide to Baltimore, and Baltimore Chef's Table.
---
Editors Note: One thing we like to do when launching in a city is to partner with local writers. This is a key part to the City Walker experience, we don't only want our app (iOS and Android) to have a local prospective, we want our blog to have it too! This gives the authentic personal prospective that no one other than a local can offer. We are honored to have MINXEATS be a guest writer for City Walker in Baltimore.